Professional PBX Systems
ansit-com develops high-performing and secure telephone systems for the business sector. Depending on your needs, we provide all type of PBX systems for small and mid-sized companies up to 500 peers. All of our VoIP PBX systems are individual configured and flexible, which means that our clients only pay for the system they really need. Many other standard solutions contains functions or modules that are useless for the requirements of a specific company.
ansitel VoIP PBX
ansitel IPsmart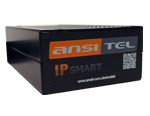 Especially for small companies and offices up to 10 peers, our ansitel SoHo enables an easy, professional and solid telephony solution. With the SoHo you get a small PBX with full VoIP functionality, which includes virtial Faxes, phone conferencing or voice mail. The SoHo is a power-saving phone system and smaller than a normal phone. The management of our smallest PBX is realizied by our user-friendly ansitel webinterface 3.0.
ansitel flexVoIP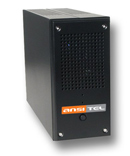 The ansitel flexVoIP is a pure voice-over-ip PBX which is suitable for companies up to 50 employees. This PBX can include all major VoIP functions like fax over IP, voicemail, interactive voice response, music on hold, conferencing or call-forwarding. ansitel OV is a perfect VoIP PBX system for smaller companies seeking a professional, cost-effective and high quality phone solution. This PBX can be managed easily with our Asterisk webinterface awi 3.0.
ansitel flexHybrid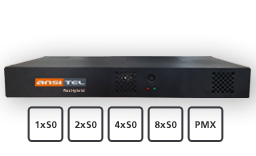 The bigger the company, the higher are the demand standards of the telephony system. The most analogous PBX systems are cost-intensive in case of the installation of new peers or connections. With the ansitel flexHybrid you get a professional hybrid PBX solution which combines the advantages of VoIP and PSTN. This grants a maximum of flexibility at a low cost level. This VoIP PBX will manufactured and configured according to your requirements. A comfortable configuration and management can be realized by using ansitel webinterface.
ansitel Callcenter Edition (CC)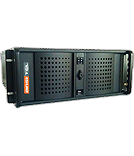 For many companies with a strong focus on client acquisition and client services, a callcenter system is essential for a professional business environment. The benefits of a callcenter are obvious: workloads can be pooled more efficient, costs for operating procedures can be decreased and the quality of service can be boost noticeably. By using our ansitel Callcenter Edition you get all what is needed to establish a professional callcenter system. This PBX is technically a hybrid phone system which was developed for high call traffic. Combined with appropriate callcenter software it is possible to analyse and optimize the callcenter system effectively.
ansitel VM (Virtual Machine)
Our ansitel PBX systems are also available as a VM solution. With a virtual PBX you can use your own infrastructure, which is often a major demand of some companies.
ansitel Hosted PBX (Cloud Edition)
As the bandwidth of internet connection is increasing more and more, many modern companies are looking for possibilities to maintain their phone system virtually. Our hosted PBX is a virtual and flexible phone solution for the operation of up to 100 peers. As all of our ansitel products, our ansitel Hosted PBX will also configured individual and installed as per the clients demand. With this cloud solution you get a product which is adjusted to your IT environment and which is known for its high quality and security standards.